Our Family Blog. I have wanted to start a blog for awhile now just was never quit sure where to begin. I have decided to just start from the beginning where it has all started.
I am a 34 year old stay at home Mom to three wonderful kids and a great husband. I am one of the few and fortunate to have very caring parents who have been married for 36 years. My parents were both enlisted into the United States Navy when they got out of High School. They both grew up in small towns in Illinois. After enlisted they were both station at NTC naval base in San Diego, CA. One evening while they were enjoying some down time they met each other. They were later married and station on the island of Hawaii. While stationed on Hawaii I was born. Almost 2 ½ years to the day after my birth my little sister was born. My Dad had decided to get out of the Navy after 7 years and our family moved back to Illinois. My Dad went to work for the Railroad. After 10 years of working for the railroad my Dad decided he would join the Navy again so in 1988 we would make a huge move. My Mom, Dad, Sister and I moved to the Island of Guam. We spent 4 years on Guam and after 3 years there my baby Sister was born. After my Dad finished his tour he was stationed back in San Diego, CA. I have been here since 1990 I graduated high school here met my husband here and have had my children here. My parents did leave for a couple years when my Dad got orders to go back to Guam but then came back here. After spending 30 years in the Navy my Dad retired in May 2009. They have since moved back to Illinois and have bought their retirement home.
My little Sister Mags is married, and has 3 children. She is married to her Sailor Gucky They have been married for 13 years and are currently stationed in Maryland. They have spent time here in San Diego and in Japan. They have two daughters Daye is 11 and CiCi is 8 years old. They also have a son Z-Man who will be a year old next month.
My baby Sister Pooh Bear is 20 years old and a dental assistant getting ready to go back to school to be a hygienist. She has a boyfriend Ry who is also a Sailor. They have an apartment together and are just starting out their lives together.
Well once I started typing that it actually was pretty easy to do LOL. I guess that will be it for tonight that has given a little in site as to where I have come from. In the next few days I will continue to tell you about my family and my children.
My wonderful parents on the day my Dad retired from the Navy. We were all so proud.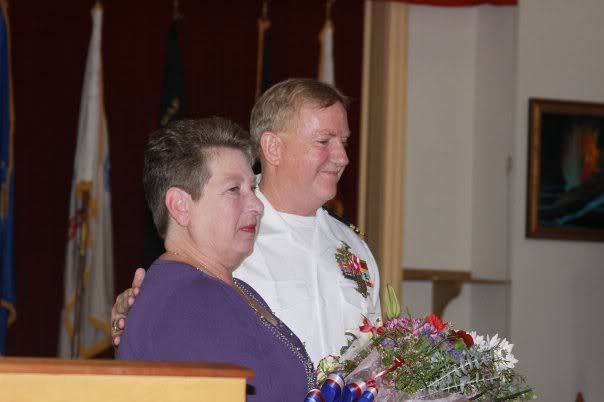 Because of them it all began….